Service
Service in My Department
When possible, I have initiated or involved myself with departmental projects in order to forge closer relationships with our English majors and enhance their educations (because I am an adjunct, I receive no remuneration for these efforts). The following are some projects that I've worked on at my current school:
Book History Field Trip
I worked with professors in history and English to lead a field trip in October 2018 for students in a book history and a women's history course. This cross-disciplinary collaboration included stops at the Joseph Smith Papers in Salt Lake City (a major documentary editing and archival project), the Crandall Historical Printing Museum in Provo, and the Special Collections at Brigham Young University. We also attended a lecture by historian Janiece Johnson. The students loved getting to see legacy print production techniques and artifacts up close, and many reported that it was useful and interesting to meet scholars engaged in English- and history-related academic work but who don't hold traditional professorial positions.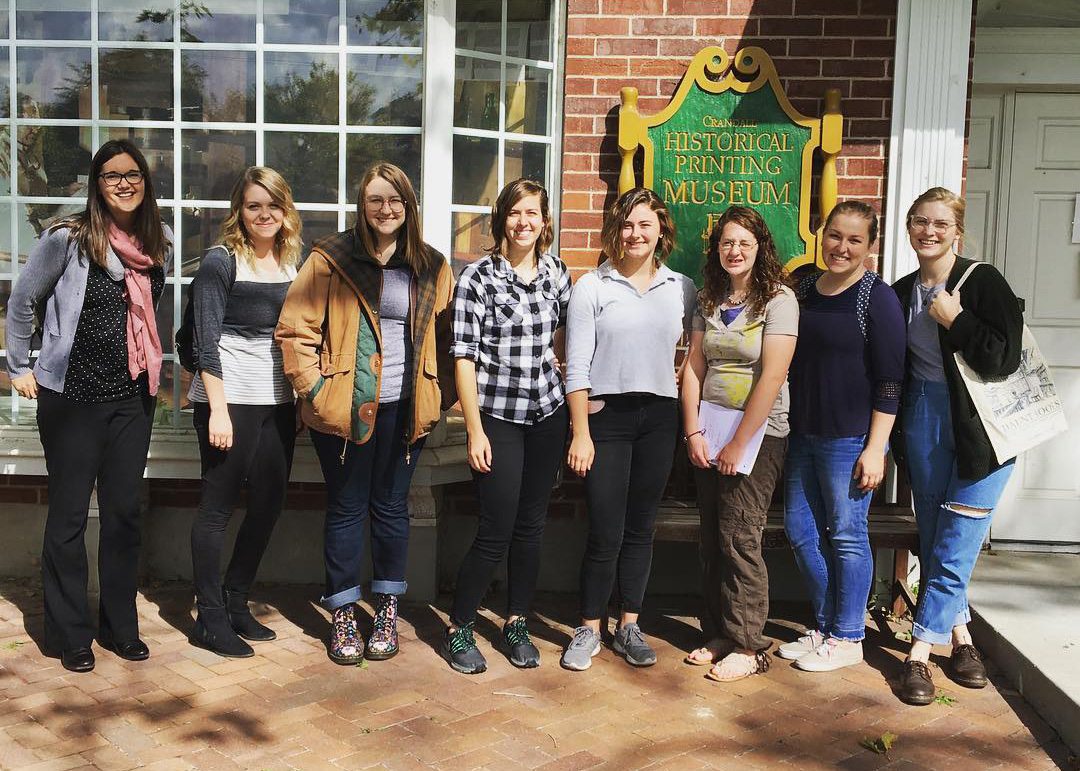 Previous
Next
Here we are at the Crandall Historical Printing Museum, where I got to turn the crank on a replica Gutenburg press to print a page of the Bible in hand-cast blackletter type.
We are currently planning a follow-up trip and hoping to expand to include students interested in editing and publishing. We intend to visit both literary and scholarly publishers, a modern printing facility, and a site where technical editing happens and give students the opportunity to talk to potential internship providers. The trip is tentatively scheduled for April 2019.
Author Readings
In Spring 2018 I participated in a faculty reading, sharing a personal essay entitled "Of a Feather."
In Fall 2018 I organized a campus visit for David Wanczyk, author of Beep: Inside the Unseen World of Baseball for the Blind. I worked with the local and university libraries to set up displays promoting the event.
David Wanczyk reading from Beep.
The Papercuts
I host a semi-regular book club for students called the Papercuts. Recent selections include Tara Westover's Educated, Steven Pinker's Enlightenment Now, and Michelle Obama's Becoming.
Jane Austen Yule Ball
I've assisted in this annual English department tradition the past several years. Students meet for weeks prior to the ball to learn period dances — Mr. Beverage's Maggot, the Ship's Cook, and the Physical Snob, for example — as well as customs such as fan etiquette and appropriate terms of address. The ball itself draws interested students from across the campus.
England Study Abroad
Twelve years after my own study abroad experience, I was consulted by the directors of our department's English Study Abroad program for help in the planning. I was even able to attend part of the trip this last August, helping to guide students through London, Durham, and Edinburgh. One of the students is now my TA, which I hope will lead to more mentoring opportunities.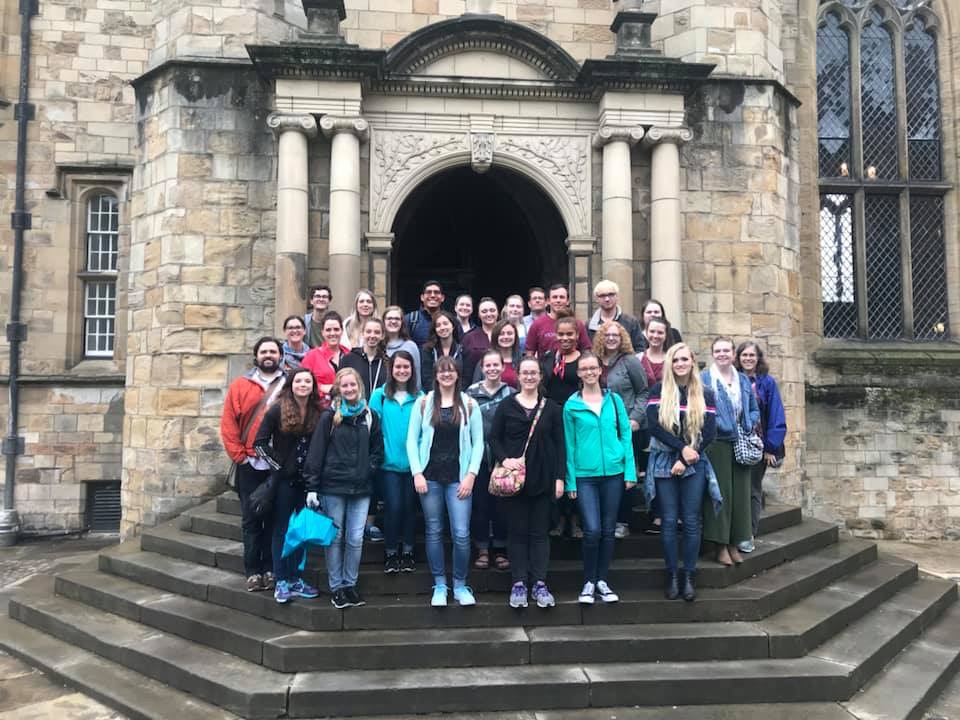 Here I am, far left, with our study abroad group in front of Durham Castle.
Pre-Professional Conference
This yearly event put on by the English department includes a keynote address from a visiting scholar or professional as well as two days of readings and workshops that help undergraduates explore their career options in English studies. Because my background spans creative writing, rhetoric and composition, and technical communication, I often sit on a panel that explains the various options and considerations involved in graduate study, and this has led to many additional conversations with undergraduates hoping to better understand these complex choices.
Program Assessment
As time permits, I volunteer with the Foundations of English 301 Assessment Committee, working with my colleagues to identify items for assessment, gather and analyze data, and form conclusions about the analysis. These activities lead to better curriculum design, professional development, and representing the success of our courses to administration.
Service to the Field
I have also been involved in academic service meant to serve the field of writing studies generally.
Curriculum Development
As described in my present research efforts, I've been developing a new synthesis unit for my junior-level writing course, called the Current Event Coverage Report. I presented on this unit at the 2018 CCCC Annual Convention in Kansas City, and I have shared it on the WPA-L listserv. I also formally presented this assignment sequence to my department in June 2018, leading several colleagues to adopt it in their classrooms. The Utah State University writing program has also adapted this assignment for use in their first-year composition program. Additionally, one of the texts I wrote to supplement the readings I collected, called "The Journalism Continuum," has been adopted by BYU–Idaho as part of its textbook for Foundations of English 301. I am currently at work on additional supplemental texts.
Graphic of the journalism continuum, part of a reading I developed for my students. Click to see the entire reading.
Advanced Placement Exam Scoring
Scoring AP Exam essays is an intense, week-long masterclass in holistic grading, assessment norming, and program administration. Five times over the last eight years I've attended the session for scoring the English Language and Composition exam essays and worked alongside hundreds of high school and university writing instructors to score hundreds of thousands of essays each cycle. In addition to becoming more familiar with large-scale assessment practices used in a key instrument for our field, I'm able to converse with my high school counterparts about their approaches to, frustrations about, and successes in teaching writing. Each year I leave exhausted but better prepared to help my own students develop as writers.
Contest Judge
In 2016 I served as one of two judges for the Association of Mormon Letters Awards contest in the creative nonfiction category. My partner and I read several dozen books published that year and chose finalists, a winner, and an honorable mention, penning an essay situating the winners within the larger context of Mormon letters and literary nonfiction writing.
Service to My Community
I also endeavor to be of service to my community by sharing my skills for the benefit of all. Here are some examples of my outreach:
Promoting Literature
In February 2019, my partner and I will give a presentation at the Madison County Library entitled "They Seek Him Here! They Seek Him There! Superheroes and Secret Disguises in the The Scarlet Pimpernel." The presentation is part of an ongoing series meant to promote the reading of literature in the community.
Editing
Every year I donate dozens of hours of my editing abilities to community members in need. I primarily help people put together job application materials and professional/graduate school applications, but I have also worked on other projects including a website for a local crèche exhibit and a Kickstarter campaign for a startup gaming company.
A sample card from the game and Kickstarter campaign I edited.